Powered by Global MeteOcean
Leverage the power of our advanced proprietary Technology including Dynamic Geolocation Weather Forecast, our Web based products and applications, especially designed for supporting industries and businesses in their Weather Sensitive Activities on land, offshore, and airborne.
Operational Weather Support
Every Business and Professional undertaking weather dependent activities can maximize the benefits from our specialized meteorological support, comprising data provision, also involving specialists and reliable advanced systems to ensure safety and optimize efficiency at every stage of a project.
Advanced Digital Solutions
In the fast paced Digital age and Global business ecosystem we have developed powerful integrated tools for various use cases, while we can build customized solutions to your specific needs, helping you to streamline your operations taking into account every weather related potential impact.
Best Data for your Decisions
We build Systems managing meteo data in the state of the art at all stages, such as data collection from best datasets in the world then processing including expertise, AI powered data analysis, integration up to very High Resolution 1.7km and visualization through innovative digital platforms perfectly tailored to your needs.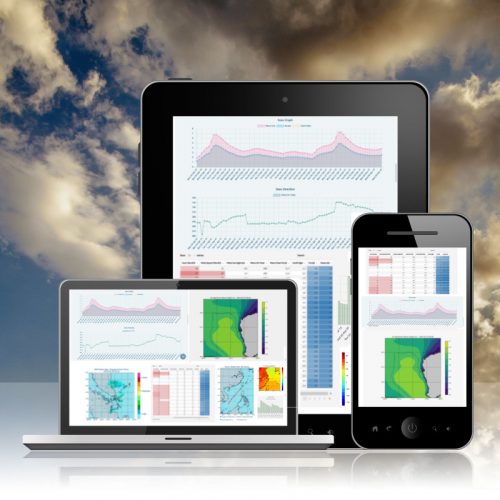 Multiplatfom access to highest Quality Weather Information Worldwide
Accurate and Reliable Weather Forecast data up to Very High Resolution 1.7km for your Operations and Business
thescreenweather Digital Platform provides powerful insights including weather information to help for best decision making process during Weather dependent operational activities. The user friendly interface along with the easy to understand presentation of the data  will support confidently the execution of your operations. The complete range of features is customizable exactly to your needs. thescreeweather suite of advanced solutions will support your objectives of safety and increase your bottom line.
Check out the following benefits:
Mitigating risk continuously
Optimizing efficiency
Handling cost reduction
Accessing over 60 Atmospheric and Ocean Forecast data products at various Resolution and Format that will suit to your business need
Identifying optimized weather window opportunity that will impact positively on your operations Carbon footprint
Receiving assistance from Highly experienced specialists
Experiencing pro-active Customer Support with strong commitment culture
Using unique sets of innovative professional tools for data vizualisation